#19: 7 Lessons From Bruce Lee
Welcome to Episode #19 of the Fight for a Happy Life podcast, 7 Lessons from Bruce Lee.
Bruce Lee is probably responsible for more people signing up for martial arts classes than anyone else in history. And I'm one of them!
In this show, I share seven lessons from Bruce's notebook, the Tao of Jeet Kune Do. These lessons not only changed my life when I started in martial arts, they continue to influence me today.
You can either: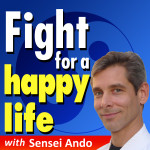 Podcast: Play in new window | Download | Embed
Subscribe to Podcast: Android | RSS
If you enjoy the show, I'd love to hear your thoughts. Add a comment or send me an email at ando@SenseiAndo.com.
If you'd like to support the show, leaving a quick review over at iTunes would really help get the word out. Or share a link with a friend!
For the article version of this podcast, check out, "7 Lessons I Learned from Bruce Lee."
And don't forget to sign up for free email updates so you can get new shows the minute I publish them.
Thanks for listening!