#12: The Blonde Haired Warrior [Podcast]
Welcome to Episode #12 of the Fight for a Happy Life podcast, The Blonde Haired Warrior.
Once upon a time, I was awakened in the middle of the night by a blood-curdling scream. I ran outside to discover a young, blonde haired woman— a brave blonde haired woman— whose actions that night taught me many lessons about self-defense.
The tale of this real-life warrior is not only inspiring, it may just help you to be safer, too.
You can either: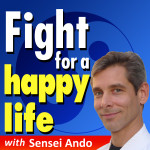 Podcast: Play in new window | Download | Embed
Subscribe to Podcast: Android | RSS
If you enjoy the show, I'd love to hear your thoughts. Add a comment or send me an email at ando@SenseiAndo.com.
If you'd like to support the show, leaving a quick review over at iTunes would really help get the word out. Or share a link with a friend!
For a written summary of the show, check out the article, "Self-Defense Story: The Blonde Haired Warrior," on www.SenseiAndo.com.
And don't forget to sign up for free email updates so you can get new shows the minute they're published.
Thanks for listening!