#43: The Bully Handshake [Podcast]
Welcome to Episode #43 of the Fight for a Happy Life podcast, "The Bully Handshake."
I got my hand crushed by a bully handshake once… and the pain taught me a lesson about self-defense and self-empowerment that I'll never forget.
Whether you train in the martial arts or not, I think you'll find this lesson unforgettable, too!
To LISTEN to, "The Bully Handshake," you can either: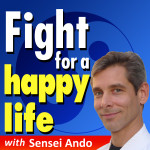 Podcast: Play in new window | Download | Embed
Subscribe to Podcast: Android | RSS
To READ along, or if the player won't play, you'll find a full transcript down below.
If you'd like to support the show, sharing a link with a friend or leaving a quick review over at iTunes would be great. Thanks!
Oh—and don't forget to sign up for free email updates so you can get new shows sent to your inbox the minute they're released.
Thanks for listening! Keep fighting for a happy life! 🙂
The Bully Handshake
TRANSCRIPT
[START]  Today on FHL, the bully handshake.
Hello again and welcome to Episode 43 of Fight for a Happy Life, the show that believes a little martial arts makes life a whole lot better.

 Ando here and as always, I'm so very honored that you pressed play. I, of course, value your time, and well, it's very hot in here today, so, let me just get right to it, okay?
Today, a blast from the past. A story from my grade school days that led to a lesson that still sticks in my mind every single day. Get ready for the bully handshake.
[01:05]  The year was 1983. I was in seventh grade. In my class, there was a strong, tall, young man named Mick. And Mick was a bully. The rumor around school was that Mick's dad was pretty rough on him. And as some kids who get roughed up at home tend to do, Mick found relief by roughing up others. And on this particular day, he was rough on me.
Now, I can't remember exactly how the trouble started, although it's very likely that my trash-talking and arrogant sneer on my face had something to do with it, but I do remember how the incident ended—with a handshake.
We had argued about something, I know he wanted to punch me, I was somehow smart enough or lucky enough to talk him out of killing me, punching my teeth out, and then at the very end, Mick offered his hand as a sign of good will.
"No hard feelings. Let's shake on it." That kind of thing.
Of course, it was a trap. And I walked right into it. I shook his hand and immediately the clouds darkened. Now, Mick—he didn't say a word. He just stared at me and started squeezing. And squeezing. He squeezed so hard that I literally dropped to my knees.
Hey! Did you ever see the movie Superman 2 with Christopher Reeve? Do you remember that scene where General Zod thinks Superman has lost all of his powers and he demands that the son of Jor-El, Superman, take his hand and kneel before him? But in fact, Superman still had his powers so when he takes General Zod's hand, he just crushes it, and you hear the bones crunch. And then he picks him up and throws him into a chasm.
Well, it was just like that. No, I didn't get throw into a chasm, but I definitely was Zod and Mick was definitely Superman in this one. Oh—a funny little sidenote here…
When I moved out to Los Angeles in my 20's, I actually met Christopher Reeve. That was really exciting. I mean, I was only eight when the first Superman movie came out and I was 10 for part two. Now, of course, I knew Christopher Reeve wasn't really Superman, but on the other hand, Christopher Reeve WAS really Superman! You know what I mean. It gets weird.
So, anyway, when Christopher Reeve offered me his hand and said, "Hi, I'm Chris," I freaked out.
I looked at his hand in front of me and all I could think was, "Holy shit! That's the hand that crushed General Zod!" Such a strange world we live in, isn't it? Anyway, God rest his soul.
Where was I? Ah, yes—I'm on my knees and Mick still wouldn't let go. He just stood over me, breathing through his nose, while I was writhing in pain, swallowing my screams, and trying not to wet my pants in front of my friends.
Eventually, after what felt like forever, Mick was satisfied and he let me go. He didn't say a word. He just let go and walked away. I mean, on some level, I respect that. What a perfect performance. I mean, if you're going to be a bully, that's the way to do it.
For me, having my hand slowly and silently crushed was far more frightening and intimidating than hearing him scream at me, or call me names, or punch me in the face. I mean, anybody can punch anybody, right? There's nothing mysterious or supernatural about getting punched in the face.
But that grip! To have the grip strength to put me on my knees, and then just stand there without saying a word, man, it seemed liked black magic.
[04:57]  I think I've made the point before that when you're sparring, or you're fighting with punches and kicks, all of that happens really, really fast, and you don't have that much time to reflect on how weak and helpless you are. But a bully handshake is slow. It's grinding. It's unstoppable. It's the kind of attack that feels just like Brazilian Jiu Jitsu.
When you're stuck underneath somebody, you not only lose, you have time to know that you're losing. You have time to see your ego evaporate. You have time to feel helpless and pathetic. The bully handshake doesn't just crush your hand, it crushes your soul.
Okay. So, now let's flash forward a few years. It's 1989. I'm a student of Tae Kwon Do. One night in class, the instructor announced that we'd be working on handshake defense.
Yeah! Wow! Up until that moment, I hadn't really thought about what happened with Mick. I had put my handshake humiliation in some small compartment in my head. I never thought about it again. And even when I started training in the martial arts, I put all my attention on developing punches and kicks, not handshakes. I mean, that's the cool stuff, right?
When was the last time you saw handshake defense in a movie? Frankly, I didn't even know that bully handshake was a category of self-defense. I thought my hand getting crushed was some kind of fluke. It was a one-off. But I guess not.
Anyway, as promised, my instructor demonstrated a wide variety of tactics to deal with an aggressive handshake. He showed a thumblock, he showed a wristlock, showed a throw and a takedown… it was all good stuff.
But for me, the coolest move, the coolest technique, was a trick. A simple self-defense trick that you can do right now without moving one muscle. I'm going to share this trick with you right now.
Are you ready? Here it is…
The handshake trick. Okay. Stick your hand out like you're going to shake someone's hand. Okay. Curl up your hand just a little bit and put your fingers together— don't let them spread out. Put them together so they're touching. Are you ready? Here it comes.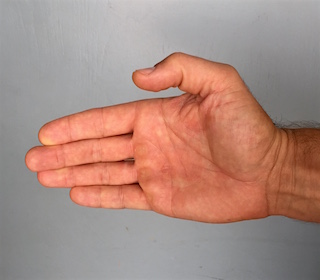 Now, just tense your hand. Just tighten up all your muscles as if your hand is made of iron. That's it. The goal here is not to squeeze the other guy's hand. You're not trying to crush his bones. You're just bolstering the structure of your hand so it can take a squeeze. Does that make sense? Cool. Now, play around with that a little bit and let me know how it goes.
Anyway, on the night when I first saw this trick, my instructor challenged me to squeeze his hand as hard as I could. And I did. And then when one hand didn't work and have nay effect on him, I used two. I even leaned into him… it didn't matter. He just stood there staring at me. Just like Mick stared at me!
That's why I love this trick—it's a reverse bully handshake. While the bully is staring into your eyes, waiting for you to panic, you can stare right back, waiting for him to give up. And you can have the same arrogant look on your face. Or maybe that's just my face. Whatever.
The best part? You don't even have to practice this trick, right? You can do that right now. So, for me, in the world of bully-busting, it doesn't get any better than this.
As a matter of fact, this bully handshake defense technique made me so happy, that I used it as a party trick for years. Any time the topic of martial arts came up, and people would ask me to show them a move, I didn't have to kick over anyone's head or do a fancy form. Nope. I would just say, "Here. Go ahead—squeeze my hand."
And it worked every time. Didn't matter—big guys, little guys, everybody. They'd grab hold, they'd double up, they'd grunt… and I would just smirk. Now, don't get me wrong—it does get uncomfortable sometimes. I mean, you can still feel the pressure of the squeeze, but for whatever reason, it never turns into pain.
[09:10]  So, the point is my handshake trick worked like a charm for years. The only problem was, as time went on and I got into my late 20's and early 30's, there weren't as many opportunities to use my trick. I guess as testosterone drops, so does the need to challenge you or to prove yourself. Whatever the case, it seemed as if I would never get to use my handshake trick again. It just sat in a box in my head getting dusty.
But all of that changed when I started working with kids. In my mid-30's, I took a full-time job at Dawn Barnes Karate Kids here in Los Angeles, and that gave me the chance to work with literally thousands of young students, some of whom, yes, can get a little cocky about their skills.
Now, sure, I could always put on some sparring gloves and knock them around a little, but I found that one of the easiest ways to suggest to my overconfident students that there is always more to learn was the handshake trick.
Yes. I dusted it off. I brought it out. I would challenge them to grab my hand and squeeze just as my instructor had challenged me. And boy, did they squeeze. They squeezed like crazy.
They would hang on my arm, they would scream, thrash, turn red… they really tried to hurt me. Kids are fun like that, right? But I'd just laugh. I would trash talk. "Come on, tough guy… is that all you got?"
This was my party trick back in its fully glory, baby! It was a hit. Until… one day.
One cold, dark day. Actually, it was warm and sunny, but it didn't feel like that to me.
I want you to meet Daniel. Daniel was a junior black belt in our Karate program. A tall, skinny, 12 year-old, junior black belt. And he was cocky. He didn't start off that way, but like many martial artists, as his skill grew, so did his ego. And one night, after class, he was mouthing off a little bit and I knew just what to do.
So, I set the trap. "Hey, great class tonight. Put 'er there." He took the bait, shook my hand.
"What— is that your hand or a noodle? Come on, tough guy. Squeeze my hand."
Nothing. There were a couple of other students watching and giggling as Daniel dropped his sparring bag so he could use both hands. But I just stood there, smirking like I always did. And as I started another round of trash talk, that's when I heard it—POP!
What was that? Did this fucking kid just break a fucking bone in my fucking hand?
Yes, he did. Or maybe he just popped it out of place. You know what, I can't tell you exactly what happened, because it wasn't serious enough for me to go to the hospital, but it did hurt.
To be honest, I sometimes think that the POP was actually the sound of my ego snapping in half. Whatever the case, I played it off. I peeled Daniel's cocky little hands off mine, I gave him a big slap on the back, and told him, "Better luck next time, Karate Kid!"
Everyone left with a smile, no one suspecting for a moment, that Sensei had a broken hand. Nobody realized that Daniel had put me back on my knees, psychologically speaking. But the second the door closed and I was alone, man—I sank into a chair, held my hand, and tried to figure out what the hell went wrong.
Was Daniel that strong? Was I suddenly that old and weak?
Oh, the irony. Here I was trying to instill humility into a cocky student and instead, a cocky student instilled humility into a cocky teacher. On that night, it was the young man who taught the old man a valuable life lesson—
Tricks are tricks and skills are skills.
Let's face it—human beings love shortcuts. We love hacks. We love tricks. Whether it's for getting into shape, saving money, or getting a bad guy off your back, hey, if there's an easy way to do something, we want to know what it is.
But even though hacks and tricks can sometimes boost our progress, ultimately, I'd still say you're way better off doing the work and building real skills. Skills that will lead you to success even when all of your tricks have failed you. A trick may help you lose ten pounds, or save a few bucks, or impress people at parties, but listen—
Relying on tricks to build health, wealth, or defend your life is a terrible and, yes, even dangerous strategy.
Now, I've talked about the dangers of being a "one trick pony" back in Episode 11. In that show, I blamed the ego for keeping us stuck in a rut. Discover a trick that works and then just keep using it over and over and over again—that's a rut. And if our one trick doesn't happen to work, well, then we blame it on somebody else or make an excuse… anything to prevent ourselves from admitting that hey—maybe we're not as smart or as skillful as we think.
But there's another reason why we get stuck in a rut—laziness. Experimenting with new ideas and developing new techniques takes work. It takes patience… faith… grit… guts.
[14:58]  Now, you see one trick ponies in every walk of life, but for the moment, let's talk about martial arts. Here's what I see on the mats…
A beginner worries about being choked. Then they learn an escape from a choke. Then they strut around believing that no one can choke them! They go from scared to smug in one quick step.
It sounds very odd to say, but I'm telling you, a little self-empowerment can be dangerous. Empowerment is dangerous when you let one good trick become your only plan. When you let one good trick make you think you can't lose. When you think you've learned all you need to know. I know this isn't new to you, but I'm going to say it anyway—
Confidence is cool, but cocky will get you killed.
No duh, right? So, okay—if we all know that, then why is smugness and even arrogance so common in the martial arts? Why are there so many martial artists who believe that their style is "the best"? Why do you see so many students practicing moves that you know will never work under pressure?
Well, it's really no mystery, is it? As I've talked about before, most people in the martial arts are nice people. Kind people. I mean, what type of person signs up for a martial arts class in the first place? Do you think it's someone who feels tough, and confident, and powerful, and now just wants to develop some humility by getting tossed around and beat up a couple times a week?
No! It's usually the opposite. Most students feel like they're already getting tossed around and beat up out there. They're good people looking for a way to improve and protect themselves. They come to the martial arts seeking comfort, confidence, and control. And well, yes, maybe sometimes to lose a couple pounds of fat or gain a couple pounds of muscle. That's fine.
So, what happens? Well, when you teach good people to punch, kick, and take somebody down, they get everything they were looking for. It doesn't matter if you're six years old or sixty, a martial arts class may be the first place where a good person thinks—
Hey, I'm not weak, I'm strong! I'm not scared, I'm brave! I'm not a wimp, I'm tough! I'm no victim, I'm a hero!
Yeah, you feel power in your body, in your voice, in your knowledge… and you like it! It's a rush. You're grateful for it. You're loyal to it.
But watch out! Because if all of that power is left unchecked, if it's left unchallenged, well, then your confidence can transform into overconfidence. That's why it's a teacher's responsibility to move his or her students through a never-ending sequence of experiences that evoke feelings of both dominance and helplessness.
Students should experience being comfortable and in control as well as being uncomfortable and under someone else's control. If your teacher or style is not providing you the opportunities to explore and work through both extremes, then listen—you've got to take on that responsibility on your own.
Keep this in mind—if you're always winning, you're not learning as much as you can. If you're always losing, you're not learning as much as you can. Your goal as a martial artist is to seek out training experiences where you can be both dominant and dominated.
Sometimes you have full control over what's happening, sometimes you have no control over what's happening. Sometimes you crush, sometimes you cry.
One extreme builds confidence, the other builds humility. And that to me, is the mark of a true martial arts master… the balance between confidence and humility.
[19:04]  Now, I spoke about that balance in our very first episode—that's right. Are You a Fighter? In that show, Episode 1, I suggested that to be a truly powerful person, you should be able to choose your behavior in any given situation as opposed to merely reacting out of habit. You don't want to be forced into doing something out of fear or arrogance. You should not be living your life at the mercy of habit. You should not be predictable.
Instead, practice being passive and aggressive, quiet and bold, conservative and crazy. By developing both extremes in yourself, then you can move forward living your life strategically and purposefully, instead of haphazardly and accidentally.
But it's not easy. I'm not going to lie to you. It takes constant vigilance to stay humble and keep learning, especially if everything's working for you and you feel like you're at the top of your game. But you know, history has proven again and again that the minute you get smug in your business, or your relationships, or your training, the second you get cocky about what you know or the way you do things, you are setting yourself up for a big fall.
No matter who you are, it's just a matter of time before some cocky 12-year-old kid comes along and breaks your hand.
Consider this—when Mick put me on my knees, I felt helpless. When I learned the handshake trick, I felt invincible. And I was wrong both times!
I wasn't helpless against Mick, I just didn't give myself permission to fight back. And obviously, I wasn't invincible against Daniel, I just put too much faith in a trick.
Why? Why did I do that? Why did I believe in a self-defense hack for so long?
Because my confidence was so crushed by Mick to begin with. My ego was so eager to feel like a winner again, that I jumped on the first technique that made me feel smart and strong again.
It's like that old saying, which I only recently heard for the first time, believe it or not: "A drowning man will clutch to a straw."
That's the popular version anyway. What I heard was: "A drowning man will grasp at a feather."
Ooh… I love the image of that feather. Either way, you get the point. When we lose, when we feel helpless, when we lose control, that's when the danger of becoming desperate appears. That desperation clouds our judgment and leads us to a distorted view of reality. A dangerous view.
Sure, if you delude yourself in business, hey—maybe you just lose some money. If you delude yourself in a relationship, hey—maybe you lose a spouse. But if you delude yourself in self-defense, maybe you lose your life.
So, don't let that happen to you! Be honest with yourself when you think about what you know. Seek clarity when you consider what you can do.
Make it your goal in training and life to know what it feels like to crush someone's hand… and to take someone's hand to help them stand up.
Know what if feels like to put someone on their knees… and to bend your own knees when it's time to show respect.
When you can act freely on both ends of the behavioral spectrum, then you can focus on figuring out when to step up and when to step back. That's what maturity is all about. That's what mastery is all about.
Learning how to balance confidence and humility— that's the real trick.
[23:14]  All right. Let's get out there and create some peace, people. As martial artists, we should be brave enough and strong enough to be the first to smile… and the first to offer our hand. Don't you think?
Hey— if you enjoyed today's show, don't miss the next one. Drop by FightforaHappyLife.com and sign up for my free updates.
Until next time, smiles up, my friend. Let that smile be your shield and your sword. Keep fighting for a happy life!