#35: Can You Really Fight? [Podcast]
Welcome to Episode #35 of the Fight for a Happy Life podcast, "Can You Really Fight?"
Martial artists love to debate over what works in real life and what doesn't. But no matter what style you choose, or which techniques you believe in, there's an even bigger question that needs to be answered—
Can you really fight?
How capable are you? Can you make what you practice on the mats work on the street? Is your martial arts training preparing you to succeed in a real fight?
In this episode, I share a breakthrough moment that not only changed the way I train, it changed the way I live. It might just change your life, too.
Building on the ideas in the article, Who Knows You the Best?, I also share advice on how to make sure your training is helping you become a real fighter and not a deluded poser.
Sound good? Then click "play" and let's get real! 🙂
You can either: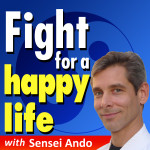 Podcast: Play in new window | Download | Embed
Subscribe to Podcast: Android | RSS
If you enjoy the show (or not!), I'd love to hear what you're thinking. Add a comment or send me an email at ando@SenseiAndo.com.
If you'd like to support the show, sharing a link with a friend or leaving a quick review over at iTunes would be great. Thanks!
If you'd like to read a summary of the show, you can find it here: Are You a Real Fighter or a Studio Fighter?
Last thing—don't forget to sign up for free email updates so you can get new shows sent to your inbox the minute they're published.
Thanks for listening!