#14: Faith In Your Fight [Podcast]
Welcome to Episode #14 of the Fight for a Happy Life podcast, Faith in Your Fight.
We all lead lives of faith of one kind or another. But how often do we put our faith to the test? Are your beliefs helping or holding you back on the road to success?
In the martial arts, putting faith into the wrong strategies and techniques might get you killed! The same is true for other parts of your life.
Listen in as we examine how to make sure our beliefs are steering us towards success and happiness instead of dooming us to failure.
You can either: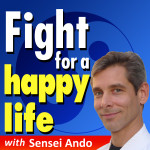 Podcast: Play in new window | Download | Embed
Subscribe to Podcast: Android | RSS
If you enjoy the show, I'd love to hear your thoughts. Add a comment or send me an email at ando@SenseiAndo.com.
If you'd like to support the show, leaving a quick review over at iTunes would really help get the word out. Or share a link with a friend!
For a written summary of the show, check out the article, "Faith: The Knockout Secret to Success," on www.SenseiAndo.com.
And don't forget to sign up for free email updates so you can get new articles and shows the minute I publish them.
Thanks for listening!