#22: How To Be a Master [Podcast]
Welcome to Episode #22 of the Fight for a Happy Life podcast, "How To Be a Master."
Many students seem to believe that just showing up to class is enough to become a master. But it's not! The truth is even if you show up and work hard, you're not guaranteed to become a martial arts master.
So, what does it take? In this episode, Sensei Ando shares two simple questions that will teach you how to be a master. Not just a master of martial arts, but a master of anything!
You can either: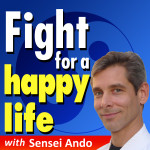 Podcast: Play in new window | Download | Embed
Subscribe to Podcast: Android | RSS
If you enjoy the show, I'd love to hear your thoughts. Add a comment or send me an email at ando@SenseiAndo.com.
If you'd like to support the show, leaving a quick review over at iTunes would really help get the word out. Or share a link with a friend!
For the article version of this podcast, check out, "Two Questions To Be a Martial Arts Master."
And don't forget to sign up for free email updates so you can get new shows the minute they're published.
Thanks for listening!