#51: Jeremy Lesniak Interview [Podcast]
Welcome to Episode #51 of the Fight for a Happy Life podcast. In this episode, I sit down for an interview with Mr. Jeremy Lesniak.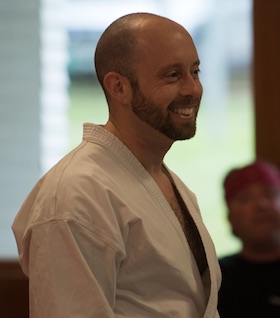 If you don't know Jeremy, he is a lifelong martial artist as well as the founder of Whistlekick Sparring Gear and Apparel.
Jeremy is also the host of Whistlekick Martial Arts Radio, a weekly podcast devoted to the promotion of traditional martial arts. If you haven't listened to his show, you should! It features over 200 episodes, mostly interviews, which makes it a great resource for meeting other martial artists.
In case you missed it, I was actually a guest on that show. You can listen to that here.
But here's the funny thing about my interview on Jeremy's podcast—we ended up chatting longer AFTER the recording than during the show! Since I found him to be both funny and knowledgeable, it only made sense to invite him on to my show.
So, grab your headphones and listen in as we discuss…
Jeremy's definition of a happy life
The state of traditional martial arts
What makes martial artists special
The use of titles in martial arts
Who is the "Katameister"?
Tattoos, piercings, and scars
Meditating on a motorcycle
Advice for new martial artists
Sound good? Then let's meet the man himself!
To LISTEN to the interview, you can either: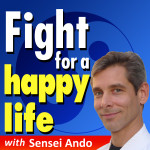 Podcast: Play in new window | Download | Embed
Subscribe to Podcast: Android | RSS
If the player won't play, you'll find some highlights of our chat below.
If you'd like to support the show, share this link with a friend or leave a quick review over on iTunes. Thank you!
Oh—and don't forget to sign up for free email updates so you can get new shows sent to your inbox the minute they're released.
Thanks for listening! Keep fighting for a happy life! 🙂