#18: John Hackleman Interview [Podcast]
Welcome to Episode #18 of the Fight for a Happy Life podcast with special guest, John Hackleman!
In a world of posers and wanna-bes, John Hackleman is the real deal. He doesn't just "do" martial arts, he lives martial arts.
So, when I got the chance to sit down with the Pit Master himself, I wanted to find out how he applies the wisdom of the martial arts to everyday life.
Short on time? You can find some highlights from the interview transcribed here: "Words of Wisdom from John Hackleman"
To listen to the full interview, you can either: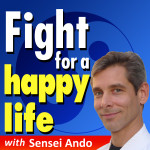 Podcast: Play in new window | Download | Embed
Subscribe to Podcast: Android | RSS
To contact or train with John Hackleman, visit: The Pit. You can also find videos and articles on the Pit Master's blog over at The Pit Online Dojo. To connect on Twitter, follow @Pit_Master. Tell him Ando sent you! 🙂
If you enjoy the show, I'd love to hear your thoughts. Add a comment or send me an email at ando@SenseiAndo.com.
If you'd like to support the show, leaving a quick review over at iTunes would really help get the word out. Or share a link with a friend!
And don't forget to sign up for free email updates so you can be the first to get new shows.
Thanks for listening!