#32: Lazy Lying Losers [Podcast]
Welcome to Episode #32 of the Fight for a Happy Life podcast, "Lazy Lying Losers."
Ask anyone if they're trying their best and they'll probably say yes… but are they really?
As a teacher, I'd say most students do NOT try their best. As a student, I'd say most teachers do NOT try their best, either! That dismal combination of low effort makes learning a slow and tedious process.
But it doesn't have to be that way!
In this show, I not only explore the reasons behind holding back, I challenge you to step up and push harder. Not just on the mats, but in every area of your life!
You can either: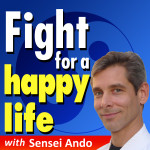 Podcast: Play in new window | Download | Embed
Subscribe to Podcast: Android | RSS
If you enjoy the show (or not!), I'd love to hear what you're thinking. Add a comment or send me an email at ando@SenseiAndo.com.
If you'd like to support the show, sharing a link with a friend or leaving a quick review over at iTunes would be great. Thanks!
You should also know this episode is available as an article, Are You Really Trying Your Best?

Last thing—don't forget to sign up for free email updates so you can get new shows sent to your inbox the minute they're published.
Thanks for listening!