#23: Mind and Muscle in Self-Defense [Podcast]
Welcome to Episode #23 of the Fight for a Happy Life podcast, "Mind and Muscle in Self-Defense."
With the popularity of combat sports like MMA and BJJ, it's easy to think that every martial artist must also be an elite athlete. But that's not true at all!
Sure, you can get into great shape through martial arts training, but is being fast and strong all it takes to be a self-defense expert? No way!
In this episode, Sensei Ando discusses the roles of both mind and muscle in martial arts training. He also explains how in the realm of self-defense, glorifying brawn over the brain might just get you killed.
You can either: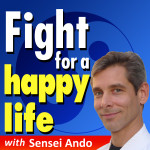 Podcast: Play in new window | Download | Embed
Subscribe to Podcast: Android | RSS
If you enjoy the show, I'd love to hear your thoughts. Add a comment or send me an email at ando@SenseiAndo.com.
If you'd like to support the show, leaving a quick review over at iTunes would really help get the word out. Or share a link with a friend!
If you prefer reading, this podcast is based on the articles, "What It Takes To Be a Self-Defense Expert," and "Martial Arts Are For Smart People."
And don't forget to sign up for free email updates so you can get new shows the minute they're published.
Thanks for listening!