#38: The Perfect Sparring Partner [Podcast]
Welcome to Episode #38 of the Fight for a Happy Life podcast, "The Perfect Sparring Partner."
Let's face it—if you want to be a great martial artist, you can't train alone… you need training partners. The more, the better!
But what kind of person will make you the best you can be? Hint—it may not be who you think!
In this episode, you'll hear my thoughts on who you need to include in your martial arts training and who you don't. This show will also help you figure out how to be the perfect sparring partner for your classmates.
Everybody wins!
You can either: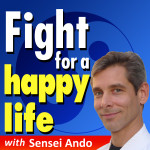 Podcast: Play in new window | Download | Embed
Subscribe to Podcast: Android | RSS
If you enjoy the show (or not!), I'd love to hear what you're thinking. Add a comment or send me an email at ando@SenseiAndo.com.
If you'd like to support the show, sharing a link with a friend or leaving a quick review over at iTunes would be great. Thanks!
For a written summary of this show, check out, Who Is The Perfect Sparring Partner?
Last thing—don't forget to sign up for free email updates so you can get new shows sent to your inbox the minute they're published.
Thanks for listening! Keep fighting for a happy life! 🙂