#36: Secret Techniques [Podcast]
Welcome to Episode #36 of the Fight for a Happy Life podcast, "Secret Techniques."
Myths, legends, and secret techniques… the martial arts are full of them. But is any of that stuff for real?
Join me as I venture into the hidden chambers to decode the secret scrolls that hold the ancient formula for success in the martial arts and beyond.
Prepare yourself!
Or just pour some coffee and click "play". Whatever. 🙂
You can either: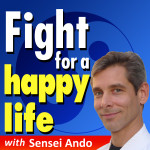 Podcast: Play in new window | Download | Embed
Subscribe to Podcast: Android | RSS
If you enjoy the show (or not!), I'd love to hear what you're thinking. Add a comment or send me an email at ando@SenseiAndo.com.
If you'd like to support the show, sharing a link with a friend or leaving a quick review over at iTunes would be great. Thanks!
If you'd like to read a summary of the show, you can find it here: Secret Martial Arts Techniques.
Last thing—don't forget to sign up for free email updates so you can get new shows sent to your inbox the minute they're published.
Thanks for listening!