My Interview on Whistlekick Martial Arts Radio! [Podcast]
I was recently honored to be a guest on the Whistlekick Martial Arts Radio Podcast! Host Jeremy Lesniak was patient and gracious enough to let me rant and rave for a full hour!
What topics did we cover? Let me tell you…
Bruce Lee and Steven Seagal
My first martial arts school
Starting this website
Thoughts on competition
My greatest inspiration
5 reasons I want to train with Miesha Tate
Life lessons from the martial arts
My favorite martial arts movies
My favorite martial arts books
Advice for my fellow martial artists
Here's the show!
I know you hear me talk a lot already, but Jeremy got me out of my comfort zone and got me to spill my guts on topics I don't usually talk about.
So, if you want to grab a cup of coffee and spend some time together, let's do it! Let me know what you think! 🙂
If the show won't play, you can find Whistlekick on iTunes as well. Episode #163.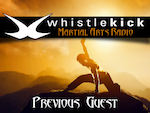 To keep up with Whistlekick:
FB – www.Facebook.com/whistlekick
Twitter – @whistlekick
Instagram – @whistlekick
Okay. That's it!
On with the show!