#33: Smaller Slower Weaker [Podcast]
Welcome to Episode #33 of the Fight for a Happy Life podcast, "Smaller Slower Weaker."
Ever feel that you're not big enough to stand up to the big guys? Not fast enough? Strong enough?
Me, too!
It's easy to feel intimidated, frustrated, and overwhelmed… not just in a martial arts class, but in every part of your life. It's even easier to give up on your goals altogether.
But that's a mistake! The issue may not be that you're smaller, slower, or weaker… the problem may simply be how you approach your goal.
In this episode, I share the mindset that not only gives you a chance to survive against the giants of this world… it can help you win!
You can either: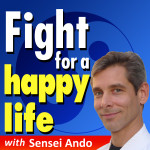 Podcast: Play in new window | Download | Embed
Subscribe to Podcast: Android | RSS
If you enjoy the show (or not!), I'd love to hear what you're thinking. Add a comment or send me an email at ando@SenseiAndo.com.
If you'd like to read a summary of the show, check out the article, A Ridiculous Reason to Skip Class In Martial Arts.
If you'd like to support the show, sharing a link with a friend or leaving a quick review over at iTunes would be great. Thanks!
Last thing—don't forget to sign up for free email updates so you can get new shows sent to your inbox the minute they're published.
Thanks for listening!