#9: Smash Through the Maze [Podcast]
Welcome to Episode #9 of the Fight for a Happy Life podcast, Smash Through the Maze!
Setting goals is simple…but reaching goals can be complicated! You might feel lost in a maze of obstacles. You might even want to give up.
But before you fall to the ground and claw at the dirt to bury yourself, here are some tips to help you smash through the walls between you and success.
Turn your life from a maze to amazing!  Come on! That's good! 🙂
You can either: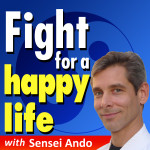 Podcast: Play in new window | Download | Embed
Subscribe to Podcast: Android | RSS
If you enjoy the show, I'd love to hear your thoughts. Add a comment or send me an email at ando@SenseiAndo.com.
If you'd like to support the show, leaving a quick review over at iTunes would really help get the word out. Or share a link with a friend!
For a written summary of the show, check out the article, "Smash Through the Maze Between You and Your Goals," on www.SenseiAndo.com.
And don't forget to sign up for free email updates so you can get new articles and shows the minute I publish them.
Thanks for listening!