#31: Staring Down Success [Podcast]
Welcome to Episode #31 of the Fight for a Happy Life podcast, "Staring Down Success."
Choosing a goal is one thing. Accomplishing a goal is another.
Life is full of distractions, complications, and obstacles. Some of them are out there… and some are inside of you!
How many times have you flinched in the face of success? How many times have you blinked when you need to stand strong? How many times have you turned away at the very moment you needed to keep marching forward?
You're not alone!
In this episode, we explore what it takes to hold our ground, keep moving forward, and stay committed to staring down success… in the martial arts and life!
You can either: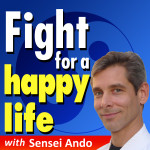 Podcast: Play in new window | Download | Embed
Subscribe to Podcast: Android | RSS
If you enjoy the show (or not!), I'd love to hear what you're thinking. Add a comment or send me an email at ando@SenseiAndo.com.
If you'd like to support the show, sharing a link with a friend or leaving a quick review over at iTunes would be great. Thanks!
You should also know this podcast is based on the article, Flinching in the Face of Success.
Last thing—don't forget to sign up for free email updates so you can get new shows sent to your inbox the minute they're published.
Thanks for listening!