#3: Sucker Punched By Life [Podcast]
Welcome to the third episode of the Fight for a Happy Life podcast, Sucker Punched By Life.
In this show, we talk about — POW! — being sucker punched! No matter how much we try to eat healthy, stay fit, make smart investments, and connect with reliable people, life has a way of sneaking up and smacking us in the face.
Building on the ideas shared in "Are You a Fighter?", and "Win Every Argument," this show will help you get back on your feet the next time life takes you by surprise.
You can either: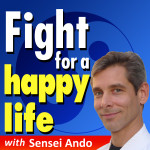 Podcast: Play in new window | Download | Embed
Subscribe to Podcast: Android | RSS
If you enjoy the show, I'd love to hear your thoughts. Add a comment or send me an email at ando@SenseiAndo.com.
If you'd like to support the show, leaving a quick review over at iTunes would really help get the word out.
For a written summary of the show, check out the article, "Sucker Punched By Life," on www.SenseiAndo.com.
And don't forget to sign up for free email updates to be the first to get new shows and articles.
Thanks for listening!