If you love martial arts, this site is for you!
There's no nonsense here… just straight talk and tips about martial arts training and martial arts living!
Let's get started!
Want to boost your techniques? Click the orange button.

Interested in applying martial arts wisdom to everyday life? Click the purple button.

How about some self-defense tips for you or someone you love? Send them this page.

No time to read a bunch of articles? Here are some of my favorite quotes.

Want to LISTEN to some martial arts wisdom on-the-go, check out my podcast!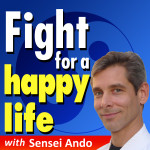 Still not enough? Head over to my Contact Page and let me know what I can do for you.
And don't forget to sign up for my FREE Email Updates. Join the "Dojo" and you'll be first to get every new tip.
Welcome again! Glad you're here!