#2: Win Every Argument [Podcast]
Welcome to the second episode of the Fight for a Happy Life podcast, Win Every Argument.
Do you find yourself arguing with friends and family all the time? Do you avoid arguments at all costs? Do you think arguing is just a huge waste of time?
Like it or not, argument is part of life. Wouldn't it be great if you could win every argument? Is it even possible?
Building on the ideas in Episode #1, "Are You a Fighter?", this show not only seeks to make peace with disagreement, it will give you the secrets to win every argument!
You can either: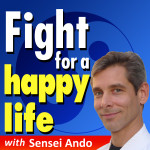 Podcast: Play in new window | Download | Embed
Subscribe to Podcast: Android | RSS
If you enjoy the show, I'd love to hear your thoughts. Add a comment or send me an email at ando@SenseiAndo.com.
If you'd like to support the show, leaving a quick review over at iTunes would really help get the word out.
For a written summary of the show, check out the article, "How To Win Every Argument," on www.SenseiAndo.com.
And don't forget to sign up for free email updates so you can get new articles and shows the minute I publish them.
Thanks for listening!