#4: Your Right to Fight [Podcast]
Welcome to the fourth episode of the Fight for a Happy Life podcast, "Your Right to Fight."
No matter how smart you are, or whose advice you listen to, you'll never be truly happy until you embrace your right to fight. This show is all about giving yourself the permission to do whatever it takes to secure your safety and success.
You can either: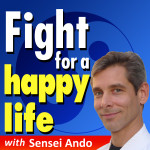 Podcast: Play in new window | Download | Embed
Subscribe to Podcast: Android | RSS
If you enjoy the show, I'd love to hear your thoughts. Add a comment or send me an email at ando@SenseiAndo.com.
If you'd like to support the show, leaving a quick review over at iTunes would really help get the word out.
For a written summary of the show, check out the article, "Your Right to Fight: Stop Being So Nice!" on www.SenseiAndo.com.
And don't forget to sign up for free email updates so you can get new articles and shows the minute I publish them.
Thanks for listening!