Want to train one-on-one? Let me know when you'll be in L.A. or let's meet up on Skype!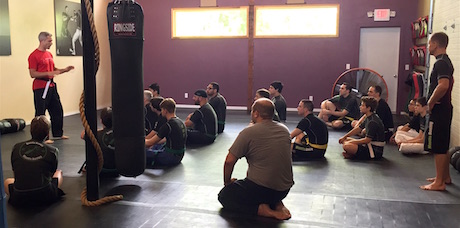 Want to set up a seminar at your school? If there's a BBQ place nearby, I'll be there!
Who I teach: People like YOU! No matter what style you study, or even if you've NEVER studied, I will help you be your best. If I can't, I'll tell you!
What I do: Break down complex martial arts concepts into simple, step-by-step lessons. No magic or voodoo… just practical information you can use.
What I teach:
Step-by-Step Self-Defense
Fitness Workouts for Martial Artists
Sparring Drills for Self-Defense
Ground Fighting for Stand Up Martial Artists
Throws and Takedowns
How to Make Traditional Martial Arts Work
What I don't teach:
Tricking
Weapons
Tournament Tips
Military/LEO tactics
If you'd rather just say hello or ask a question, Email me here anytime.
If you'd like to connect on social media, say hello here…
You can also hear more of what I've got to say over on my podcast.
No matter what, before you go, don't forget to sign up for free email updates! That's the best way to stay in touch, PLUS you'll get a free video, Ando's 7-Day Martial Arts Challenge. Give it a shot!

Let's connect!