#1: Are You a Fighter? [Podcast]
Welcome to the first episode of the Fight for a Happy Life podcast, Are You a Fighter?
In this show, I introduce myself (Hi there!) and the goal of spreading the wisdom of the martial arts to anyone and everyone.
We then dive into the question of how we react when life blocks our pursuit of success and happiness. Do you fight back? Do you give up? Do you have a bad habit of either fighting too much or not fighting enough?
You're not alone!
Using the simple tools discussed in the article Who Knows You the Best, we take a little time to examine how we fight, when we fight, and with whom we fight… all in the hopes of being better able to choose the right time to fight and the right time to walk away.
You can either: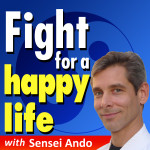 Podcast: Play in new window | Download | Embed
Subscribe to Podcast: Android | RSS
If you enjoy the show, I'd love to hear your thoughts. Add a comment or send me an email at ando@SenseiAndo.com.
If you'd like to support the show, leaving a quick review over at iTunes would really help me get the word out.
For a written summary of the show, check out the article, "Are You a Fighter?" on www.SenseiAndo.com.
And don't forget to sign up for free email updates so you can get new articles and shows the minute I publish them.
Thanks for listening!