#28: Lessons from Getting Beaten Up [Podcast]
Welcome to Episode #28 of the Fight for a Happy Life podcast, "Lessons from Getting Beaten Up."
If you're a dedicated martial artist, you know what it's like to get battered, bruised, and beaten up. It may sound a little crazy, but that's actually a good thing!
Here's the honest truth—some things in life can only be learned the hard way—there is no easy way. Students looking for shortcuts and hacks in their martial arts training will never reach their full potential or discover the deepest wisdom the martial arts have to offer.
So, if you've ever felt like getting beaten up is just a reckless waste of time, let me share four powerful lessons that I learned while taking a beating over the years…
…make that several beatings. I'm guess I'm a slow-learner! Take a listen and let me know what you think.
You can either: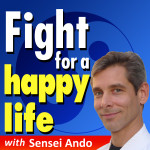 Podcast: Play in new window | Download | Embed
Subscribe to Podcast: Android | RSS
If you enjoy the show (or not!), I'd love to hear what you're thinking. Add a comment or send me an email at ando@SenseiAndo.com.
If you'd like to support the show, sharing a link with a friend or leaving a quick review over at iTunes would be great. Thanks!
You should also know this podcast is available as an article here: What I Learned from Getting Beat Up.
Last thing—don't forget to sign up for free email updates so you can get new shows sent to your inbox the minute they're published.
Thanks for listening!