#26: JD Mierzwa – Part 1 [Podcast]
Welcome to Episode #26 of the Fight for a Happy Life podcast, featuring Part 1 of my interview with JD Mierzwa.
JD is a former bouncer, professional kickboxer, underground street fighter, cage fighter, prison guard, and sheriff. Currently, he's a fitness trainer and MMA coach. He also happens to be my brother!
Listen in as JD shares his advice on self-defense, martial arts, and fighting for a happy life. I think you'll find it informative and inspiring.
Then be sure to catch Part 2 of our conversation here: "JD Mierzwa – Part 2."
If you're interested in connecting or training with JD Mierzwa, contact JD Fight and Fitness Systems through JDFFSystems@gmail.com.
To listen to the show, you can either: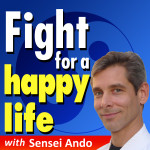 Podcast: Play in new window | Download | Embed
Subscribe to Podcast: Android | RSS
If you enjoy the show, I'd love to hear your thoughts. Add a comment or send me an email at ando@SenseiAndo.com.
If you'd like to support the show, leaving a quick review over at iTunes would really help get the word out. Or share a link with a friend!
For a transcription of highlights from this interview, check out the article, "Interview with JD Mierzwa."
Before you go, don't forget to sign up for free email updates so you can get new shows the minute they're published.
Thanks for listening!