#25: The Secret to Staying Positive [Podcast]
Welcome to Episode #25 of the Fight for a Happy Life podcast, "The Secret to Staying Positive."
We all know that positive thinking is critical for building a happy life. But being positive and staying positive in a world full of stress and strife is easier said than done!
In this show, Ando discusses how having a positive attitude not only leads to success, it might just save your life! You'll also learn his secret for staying positive… even in the face of doom.
You can either: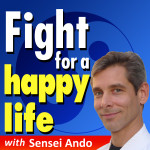 Podcast: Play in new window | Download | Embed
Subscribe to Podcast: Android | RSS
If you enjoy the show, I'd love to hear your thoughts. Add a comment or send me an email at ando@SenseiAndo.com.
If you'd like to support the show, leaving a quick review over at iTunes would really help get the word out. Or share a link with a friend!
If you prefer reading, this podcast is based on the article, "Stay Positive and Stay Alive."
And don't forget to sign up for free email updates so you can get new shows the minute they're published.
Thanks for listening!